Emotional Footprint Awards 2021
eDiscovery
---
SoftwareReviews names RelativityOne, Epiq, DISCO Ediscovery, Exterro E-Discovery, D4 eDiscovery, and Nuix Discover as eDiscovery Emotional Footprint Award Winners.
View Category
eDiscovery
Emotional Footprint Awards
SoftwareReviews Emotional Footprint Awards evaluate and rank products based on emotional response ratings from IT and business professionals. Using our Emotional Footprint methodology, we aggregate emotional footprint scores across 26 dimensions of the vendor-client relationship and product effectiveness, creating a powerful indicator of overall user feeling toward the vendor and product.
Emotional Footprint Awards are proudly founded in 100% user review data and are free of traditional "magical" components such as market presence and analyst opinion, which are opaque in nature and may be influenced by vendor pressure, financial or otherwise.
Read The In-Depth Report
See how each vendor stacks up across each of the 26 dimensions and our thorough evaluation of vendor capabilities, product features, and overall satisfaction.
Download Now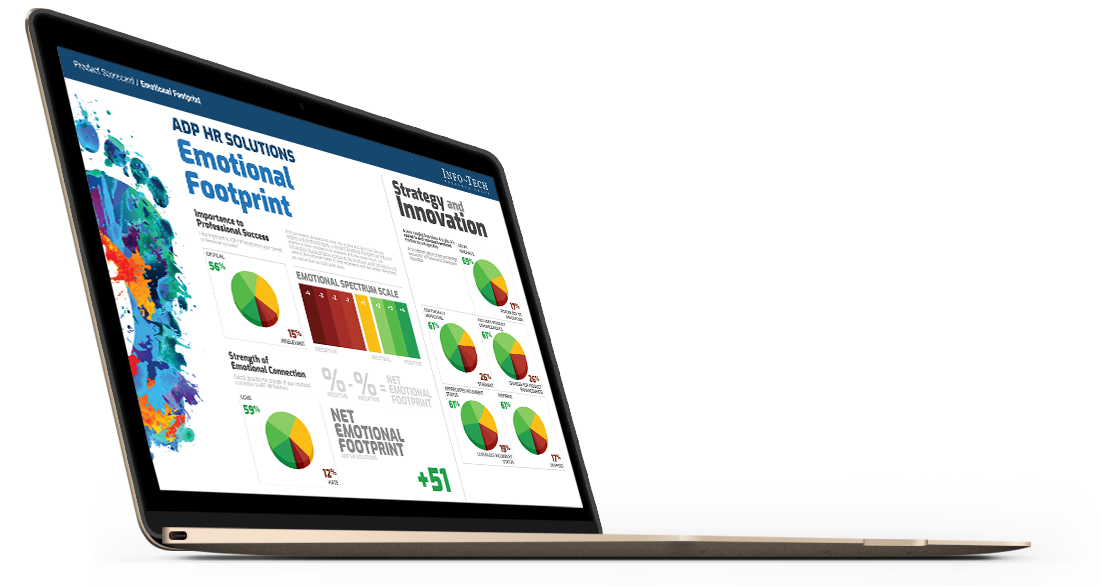 Measuring Emotional Footprint
Emotional Footprint is scored using our "Net Emotional Footprint" Index. This index tracks responses across 26 dimensions of emotional footprint that span 5 categories: Purchasing, Service Experience, Product Impact, Vendor Strategy, and Conflict Resolution. Then, the following calculation is done across this index:
% of Positive Reviews - % of Negative Reviews
For clarity, the total percentage of positive, neutral, and negative ratings is shown for each vendor as well.
Emotional Footprint Leaders
---
Open Text Corporation
Reduce risks & costs by empowering your legal teams with access to electronic stored information (ESI) using OpenText eDiscovery software solutions.
+84
Net Emotional Footprint
Net Emotional
Footprint
84
Value Index
VALUE INDEX
GoldFynch
GoldFynch is a feature-rich ediscovery with transparent and affordable pricing. Simple in-browser drag and drop uploads, all inclusive OCR, designed from group up and effortless workflows with predictable per case pricing which is affordable and offers no suprises.
+82
Net Emotional Footprint
Net Emotional
Footprint
85
Value Index
VALUE INDEX
Commvault Systems
Commvault® software creates a unified virtual repository that allows you to transform tactical backup and archiving operations into a strategic, low-TCO solution that facilitates litigation readiness, regulatory compliance and risk management. Proactive preservation and management integrated with your data protection solutions is a unique and effective approach to improving information governance and accelerating eDiscovery and investigations.
+78
Net Emotional Footprint
Net Emotional
Footprint
86
Value Index
VALUE INDEX
OpenText
Reduce the total cost of discovery for all your matters and minimize downstream legal fees with Insight Discovery. A cloud-based platform, Insight Discovery provides a complete set of enterprise-grade capabilities from legal hold and identification through collection, processing, ECA, search, analytics, review and production.
+86
Net Emotional Footprint
Net Emotional
Footprint
76
Value Index
VALUE INDEX
SHERPA SOFTWARE INC
Sherpa helps you to efficiently conduct discovery searches and collect relevant information while organizing the search process to effectively handle multiple projects. Perfect for small, midsize and enterprise teams who need to fulfill eDiscovery search and collection requirements, automate legal hold notification process, or manage risk by implementing data governance across their organization.
+82
Net Emotional Footprint
Net Emotional
Footprint
78
Value Index
VALUE INDEX
Nextpoint
Nextpoint patented, on-demand software built on cloud architecture automates the complex processes of ediscovery and case preparation, and simplifies the dynamics of data management for modern legal teams. Nextpoint's core is a full-featured, easy-to-use document review workflow with unlimited data hosting. Designed to simplify and automate the entire process, you can customize almost everything in real-time (views, tags, coding, bulk actions, and more) for your particular team or project.
+76
Net Emotional Footprint
Net Emotional
Footprint
80
Value Index
VALUE INDEX
Everlaw
Everlaw combines speed, security, and ease-of-use into a comprehensive solution that unlocks the collaborative power of teams to investigate issues more thoroughly, uncover truth more quickly, and present their findings more clearly. A modern approach to ediscovery that enables teams to quickly and easily discover relevant information, reveal details hidden in huge document troves, and collaboratively act on the information.
+77
Net Emotional Footprint
Net Emotional
Footprint
77
Value Index
VALUE INDEX
Logikcull
Logikcull's cloud-based eDiscovery software makes complex processes like eDiscovery, internal investigation, and public records response simple. Whether you're reviewing documents for discovery, redacting public records, or digging into an investigation, Logikcull gives you a powerful solution to get the job done quickly, affordably and confidently.
+74
Net Emotional Footprint
Net Emotional
Footprint
78
Value Index
VALUE INDEX
AccessData Group
AD eDiscovery
A single, fully integrated platform for forensically sound enterprise-wide preservation/lit hold, search, collection, processing, data assessment and complete legal review, AD eDiscovery gives teams a repeatable, defensible process for managing e-discovery that will hold up in court.
+77
Net Emotional Footprint
Net Emotional
Footprint
70
Value Index
VALUE INDEX
IBM
IBM® StoredIQ® eDiscovery is a user application that helps legal users during the initial phases of the eDiscovery process. By helping you to capture needed electronic data, you can use IBM StoredIQ eDiscovery to communicate easily with other users about the status and review process of work that is being done. IBM StoredIQ eDiscovery does not drive the eDiscovery process, but instead helps legal users to control and communicate those processes more effectively
+68
Net Emotional Footprint
Net Emotional
Footprint
76
Value Index
VALUE INDEX
10% Negative
77% Positive
Veritas
The eDiscovery Platform provides your legal teams with intuitive tools to quickly assess case facts and set case strategy. Veritas eDiscovery Platform helps you locate, classify, analyze, and review your information smarter and faster than ever before.
+65
Net Emotional Footprint
Net Emotional
Footprint
77
Value Index
VALUE INDEX
CloudNine
Cloud-based eDiscovery automation software that simplifies litigation, investigations, and audits by allowing you to upload, review, and produce documents from one place within minutes
+60
Net Emotional Footprint
Net Emotional
Footprint
78
Value Index
VALUE INDEX
13% Negative
74% Positive
For the full press release, click here. For the full list of vendors in this space, click here.
Get Instant Access
to this Report
Unlock your first report with just a business email. Register to access our entire library.
© 2021 SoftwareReviews.com. All rights reserved.
Welcome Back!
Some of our terms of service have been updated since you last logged in.
Please take a minute to review and agree to our updated policies: Terms and Conditions and Privacy Policy
Please sign in via LinkedIn to access your free .
Signing in also unlocks access to the dynamic version of the Data Quadrant, which plots vendors based on verified user reviews! Customize the Data Quadrant according to the features and sentiments that matter most to you.
Please note: the dynamic version of the Data Quadrant continues to collect data after report publication, and may show new data that will appear in next year's report.
This offer is available until May 31, 2020. These reports are intended for internal strategic use only and are not authorized for redistribution. For permission to reuse content, please contact vendors@softwarereviews.com.