Make Software Decisions With

More Confidence and No Regrets
Choosing the right software for your business is hard. SoftwareReviews has 20+ years' experience helping organizations evaluate and select software. Our tools and best practices increase software adoption and maximize your return on investment.

Our proven framework, used by 50,000+ software buyers, is designed to help your business align on requirements, make selections that drive your business forward, and secure the best deal possible when negotiating software contracts.

"Not only was I able to bring fairness to our software evaluation process, but I also feel confident that I can defend our purchase decisions in the future."

-Qing Liu, CIO, Oregon Public Utility Commission
Software Selection Engagement
Five Advisory Calls

Over a Five-Week Period to Accelerate Your Selection Process
Expert analyst guidance over five weeks on average to select and negotiate software
Save money, align stakeholders, speed up the process, and make better decisions
Use a repeatable, formal methodology to improve your application selection process
Week 1
1
hour
call
Weekly
Advisory
Touchpoint
Week 2
1
hour
call
Weekly
Advisory
Touchpoint
Phase 2
Education & Discovery
Week 3
1
hour
call
Weekly
Advisory
Touchpoint
Week 4
1
hour
call
Weekly
Advisory
Touchpoint
Week 5
1
hour
call
Weekly
Advisory
Touchpoint
Phase 5
Negotiation & Configuration
Explore our five-phase approach in detail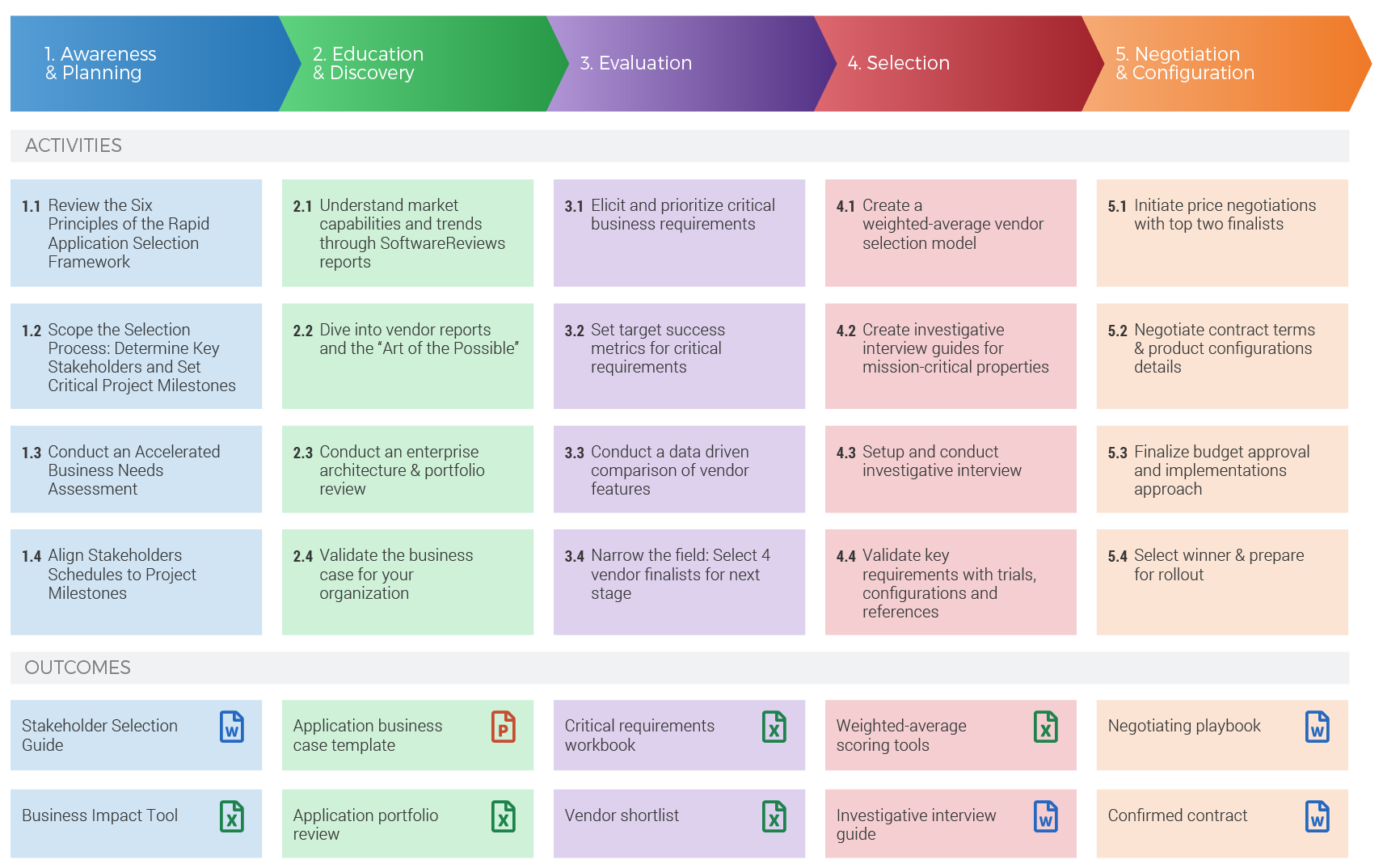 Software Selection Workshop
Rapid Application
Selection
Workshop
For a more hands-on approach, we will work through a full selection project virtually, using our Rapid Application Selection Framework (RASF).
Traditional selection processes are long and complex, and they often do not guarantee success. The RASF reduces time on non-value-add activities while emphasizing what matters to you: business value, differentiating requirements, and contract terms.
The virtual workshop is a 40-hour process delivered over six to eight weeks, designed to select most commodity-level applications. Led by our expert facilitators, we will work collaboratively through the process of selecting the best solution for your organization.
Software Selection
Consulting
For more complex application decisions, we offer full-service Vendor Selection consulting services.
Our consulting services team brings a research-backed, unbiased approach to your enterprise application selection project. Our team consists of experts in facilitation and documentation to help guide you through our structured approach to select your best fit software.
Build business case for change
Evaluate current and target state processes
Build consensus on priority functionality
Document and prioritize requirements
Build and manage RFP lifecycle
Final analysis and recommendations
Analyze
Evaluate technical capabilities, key pain points, and challenges
Provide insight with technology market overview analysis, leveraging SoftwareReviews data
Recommend strategic direction
Document functional and non-functional requirements
Build business case to document cost/benefit and ROI
---
Evaluate
Prioritize requirements to prospective vendors
Develop RFI/RFQ/RFP drafts and measurements
Facilitate communication and Q&A with vendors and suppliers
Create demonstration scripts
Write evaluation framework
Facilitate vendor demos
---
Select
Make unbiased, independent recommendations to inform end-state solution
Improve deal quality and engagement
Support negotiation strategy around cost, features, services, and support to maximize value of contract
Provide contract analysis
Downloadable
Reports & Tools
Download our tools and reports to help launch your selection project at no cost to you. Simply register your request and our team of experts will contact you and walk you through our reports to ensure you have what you need to select the best software for you.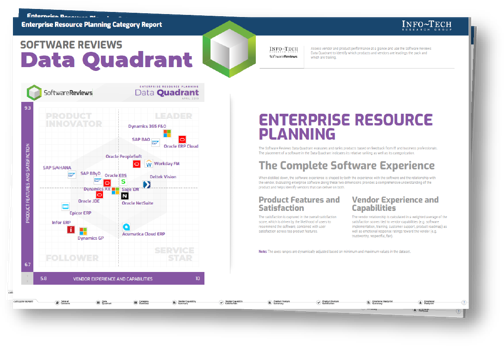 DATA QUADRANT REPORT
Comparison report of all vendors in the category. Focus is on features and vendor capabilities.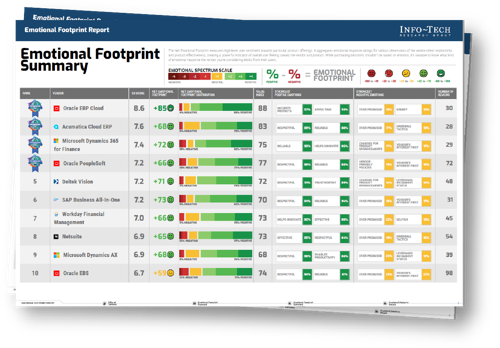 EMOTIONAL FOOTPRINT REPORT
Comparison report of all vendors in the category, emphasizing the relationship vendors have with their customers.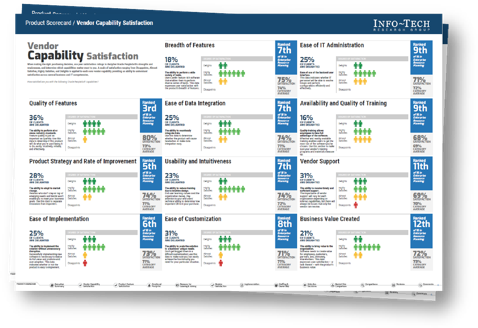 PRODUCT SCORECARD
Detailed analysis on one vendor, comprising 130 data points including features, pricing, selection practices, and discounting behaviors.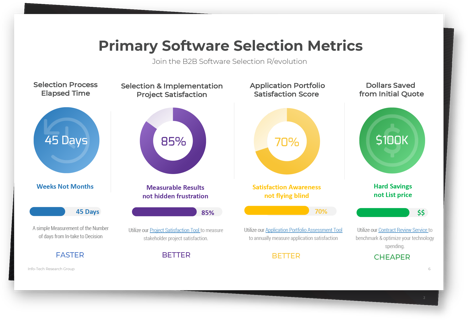 RAPID APPLICATION SELECTION FRAMEWORK
Our framework to guide your selection project. Use our methodology to successfully complete most selection projects in just one week.
Get Started on Your Data-Driven Selection
Today
1
Contact Us
Tell us what you need
---
2
Connect With a
Selection Advisor
Connect in as little as 10 minutes
---
3
Start Your Project
Reports will be sent to you
immediately after your call